If you are looking for a pet friendly bed and breakfast in the Lexington, VA area you are at the right place! And the Teter-Wood Room is perfect for both you and your pet!
At the Hummingbird Inn we have pets of our own and are definitely pet friendly, we welcome your canine companions to the Teter-Wood Room!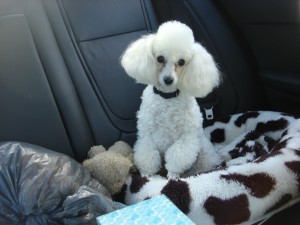 Your pet will have direct outside access from the Teter-Wood Room to the over 1 1/2 acres of lawns that make up the Hummingbird Inn property.  They can run, play catch, or even take an easy visit to Mill Creek.
Pets visiting the Hummingbird Inn are provided with a guest basket to use during their stay, that includes bowls for water or food, dogie place mat, towels and clean-up bags. We accept two dogs; please add $25 per night per pet.
Hummingbird Inn Pet Policy: 
The Teter-Wood Room is our designated pet-friendly accommodation.
Owners shall control dogs at all times while on the property.
Dogs shall not be left alone, uncrated, in rooms except during breakfast.
Please, dogs are not permitted in the Inn's common areas.
Dogs shall not be permitted to lie on furniture or bedding. Please ask us for a special blanket if you're concerned your dog may jump up on the bed with you.
Owners shall prevent excessive barking.
Owners shall clean up dog deposits on property.
Owners shall report any accidents promptly.
Owners shall ensure their dog is not aggressive; up to date with vaccinations and is well socialized with other animals and other people.
Owners shall ensure their dog is free of ticks and fleas.
Owners shall keep their dog off all furniture, including the bed, and chairs.  A $100 cleaning charge will be assessed for rooms that require excessive cleaning due to stained linens.
Owners shall clean off their dog if he/she is wet or dirty, using the towel provided before letting them in the room.
Owners shall assume financial responsibility for any damage caused by their dog during their stay.
Our goal is to make your stay a memorable one and these terms are necessary for the successful management of a small inn, devoted to our guests. Please contact the Innkeepers if you have any questions.
When you travel with your pet into the Shenandoah Valley, nearby Lexington, VA, stay at the pet friendly Hummingbird Inn in Goshen.  (Rated 5 Barks)