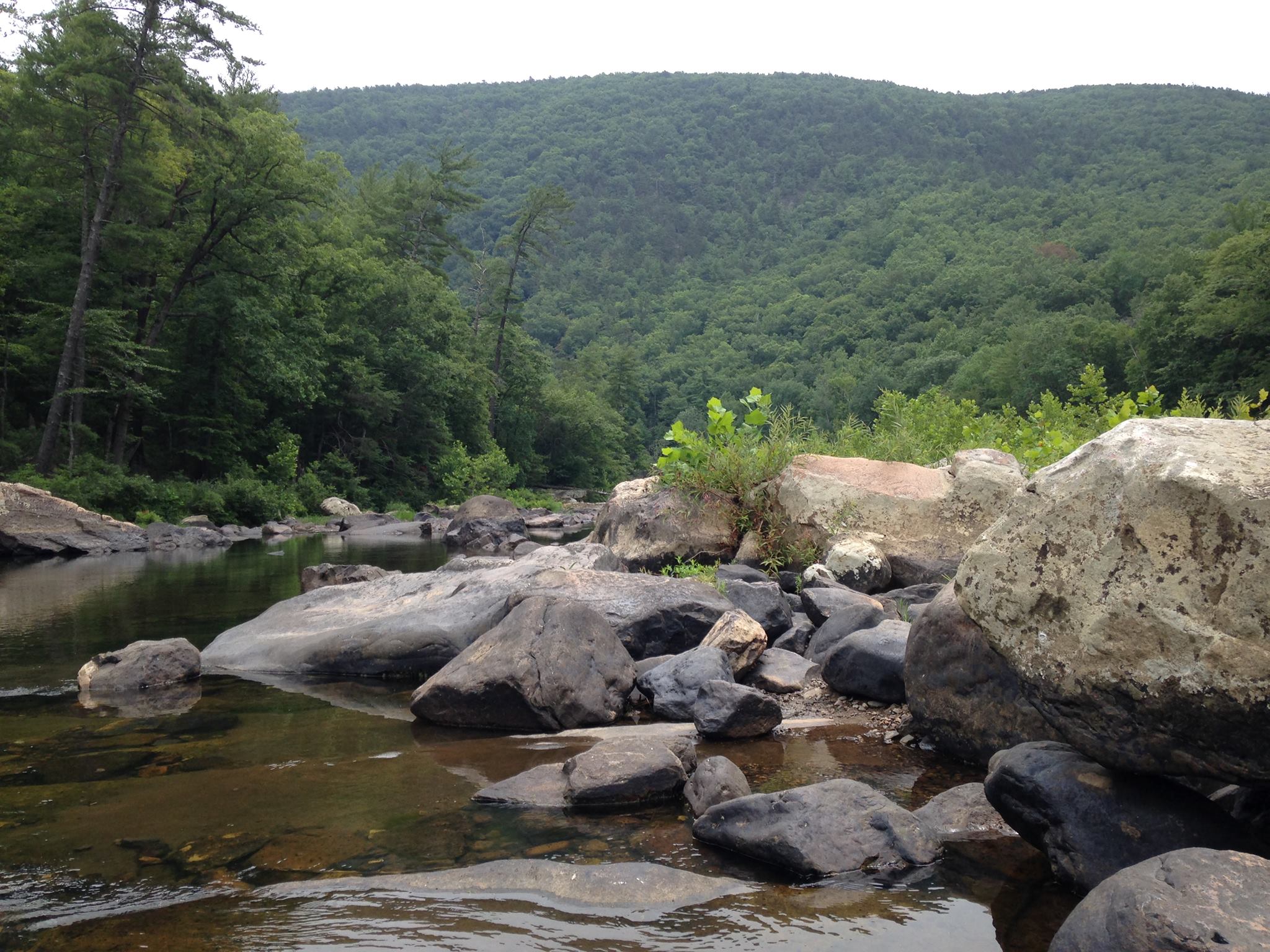 Our Shenandoah Valley bed and breakfast offers the perfect base for just about everything – hiking, biking, fishing, golfing, antique shopping, wineries, breweries and great restaurants.   Spend your days relaxing at the Inn or exploring the mountains, valleys, and towns of Rockbridge County and beyond, complete with country drives and historic sites.  You might want to take a picnic down to Goshen Pass, a spectacular rocky gorge created by the Maury River.   A long weekend will give you a taste of all the area has to offer – but you're welcome to come back again to see some of the things you missed!
Near the Inn
Hiking in our area ranges from casual one- or two-hour strolls to day-long treks leading  to spectacular vistas of rivers, lakes, and waterfalls.  Hummingbird Inn's location on the edge of the Alleghany Mountains is great for hiking no matter the season!  Head into Goshen Pass (and the Goshen Wildlife Management Area), just four miles from the Inn, and start your hike at the swinging bridge over the Maury River, or Laurel Run.  A little further are the 42 miles of trails in Douthat State Park. Other trailheads, 15 to 30 minutes by car, are jumping-off points for climbs beside waterfalls or bird-watching ambles in a Wetlands Sanctuary.
Just a short, scenic, lovely drive away
Follow Route 39 East through Goshen Pass for a beautiful drive, fishing, kayaking, swimming, picnics or hike Jump Rock, Jump Mountain Loop, Laurel Run. Drive onward to Rockbridge Baths to visit Jump Mountain Vineyard, Lexington Valley Vineyard, turn onto Route 252 to Brownsburg, an 18th century Village that provides an "excellent picture of a typical early valley village in a well preserved state" stop and see Brownsburg Museum. Not far from Brownsburg is 1750 Wade's Mill the oldest continuously operating commercial grist mill in the Shenandoah Valley worth a tour or stop to photograph this beautiful mill and then just up the road is award winning Rockbridge Vineyard. 
Follow Route 39 West, be sure to pull over at the top of Warm Springs Mountain, Dan Ingalls Overlook offers a stunning view to the East as well as access to Dan Ingalls Overlook Trail, a nice short hike with some optional rock climbing. Continue on Route 39 crossing the mountain to see historic baths "Jefferson Pools" in Warm Springs. Currently closed for renovations, the naturally warm mineral springs are planned to re-open Summer 2020 for the public to "take the waters." Garth Newel Music Center offers chamber music, as well as special musical events. Continue your drive to Hot Springs to visit beautiful historic Homestead Hotel, a 2000 acre Omni Resort worth seeing or enjoy golf on one of their two championship golf courses. Continue on Route 220 to see Falling Water, a breathtaking 80′ Waterfall beside the road with a nice pull over for photographs. Continue onward to check out Virginia's oldest covered bridge Humpback Bridge, a 15-20 minute drive via Route 220 and Route 60 W in Covington.
Farm Tours: America's premier non-industrial food production oasis Polyface Farms, Asian Pear orchard and more Virginia Gold Orchard, a small fiber farm featuring Cotswold and Finn Sheep Cabin Spring Farm, Hummingbird Inn is a proud member of Shenandoah Valley's Farm Trail Fields of Gold.
Horseback Riding:  Appalachian Horse Adventures appeals to riders both experienced and novice, with trail rides through the Blue Ridge Mountains, and North Mountain Outfitter offers half-day, full-day, and overnight trips on Shenandoah Valley mountain trails to rekindle the cowboy way of life "may the spirit ride with you".
Lexington, Virginia     Calendar of Lexington Events
Be sure to check out the friendly Visitor's Center they're happy to share highlights with you – Lexington Carriage Ride, Stonewall Jackson House/Museum and Stonewall Jackson Memorial Cemetery, Robert E. Lee Chapel,  George Marshall Museum and the VMI Museum, the Virginia Military Institute,  Washington & Lee University,  the Virginia Horse Center,  Summer Theater at Lime Kiln,  Lenfest Center for the Performing Arts, Lexington Antique Mall, Boxerwood Natural Gardens, and Hulls Drive-In Movie and Devils Back Bone Brewing Outpost Taproom & Kitchen. Or meander downtown and take in the many galleries, boutiques, restaurants and for the sweet tooth check out award winning Cocoa Mill Chocolatier, the wonderful bakery for lunch and sweets Sweet Treats Bakery or a fabulous waffle cone filled with delicious homemade ice cream at Sweet Things.
Fifteen miles south of Lexington, Natural Bridge, one of the seven wonders of the natural world. The Natural Bridge area also includes Natural Bridge Caverns, Natural Bridge Zoo and Virginia Safari Park and Great Valley Farm Brewery and Halcyon Days Cidery.
Staunton, Virginia    Calendar of Staunton Events
Blackfriars Playhouse – American Shakespeare Center, Frontier Culture Museum,  Woodrow Wilson Presidential Library & Museum. Sunspots Studio – live glass blowing, artisan gifts and gallery is worth taking in and continue on foot downtown Staunton with all the beautiful Victorian architecture with many antique shops, boutiques and galleries, wine bar, wine tasting room, local brews and restaurants. In August, a world class festival of music Staunton Music Festival is not to be missed if you love classical music.  If you admire antique and classic automobiles, don't miss Bruce A. Elder Antique and Classic Automobiles also in downtown Staunton.
Clifton Forge: Riders Up! Outfitters offers canoe and kayak rentals with guided or non-guided trips on the Jackson, James, and Cowpasture Rivers.  You can visit the antique stores, Alleghany Highlands Arts & Crafts Center, the Historic Masonic Theatre, and the C&O Railway Heritage Center,  C&O Train Shop (run by the Chesapeake and Ohio Historical Society) and visit Jack Masons Brewery.
Buena Vista:  Bluegrass Festivals at Glen Maury Park and beyond Buena Vista in Buchanan is tubing, canoeing & kayaking with Twin River Outfitters on the upper James River in the heart of the Blue Ridge mountains.
Day Trips: New Market Battlefield & Museums; Charlottesville; Monticello;  Ashlawn-Highland; Appomattox Court House and Roanoke; Virginia Museum of Transportation; Black Dog Salvage. Hike the Appalachian Trail.  Drive along the Blue Ridge Parkway or Skyline Drive.  Explore Organ Cave or the Luray Caverns.  Natural Chimneys.  Cass Scenic Railway.  The Dayton Farmer's Market and antiquing in Verona at the largest antique mall in America. Enjoy the Shenandoah Valley Wine Trail.