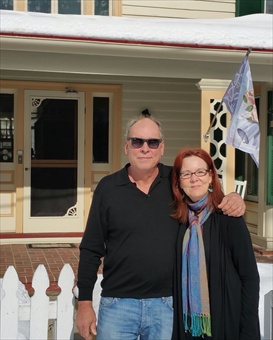 ---
"Me and my husband went for our anniversary celebration. My husband surprised me with this getaway. Had no idea. Sandra and Jeff were fabulous. We will definitely be going back. It was beautiful with wonderful hospitality. We could have stayed forever. Wonderful spot and recommend anyone to go here. I will definitely hold on to this memory for a lifetime. Thank you Sandra and Jeff breakfast was amazing."  Elizabeth Butler, facebook post Aug 5, 2018
---
About the Innkeepers
Sandra and Jeff Shaffer became the Innkeepers at the Hummingbird Inn June 2015.
After 22 years of B&B stays and a passion to one day have their own, an amazing stay in July 2014 at a Provincial B&B in the Luberon Valley convinced Jeff and Sandra it was time to live out the dream. They began looking for a B&B. Their first visit to the Shenandoah Valley and the Blue Ridge Mountains in February 2015 immediately reminded them of Provence.  A breathtaking 14 inches of fresh snowfall on the historic Hummingbird Inn clenched the deal. They knew this would be their new home.
Both born and raised in Ohio, Jeff & Sandra met and spent most their lives in Texas. Jeff, a general contractor, carpenter and cabinet maker by trade, has built dream kitchens, bathrooms and remodeled homes for many families over the years. Sandra, a natural leader and event planner, spent the previous 10 years in hospitality as House Manager for a private family and Spa Manager catering to Houston's affluent.  Together, Jeff and Sandra share a love for historic homes, food, wine and travel.
Both will tell you guests are the best part of running a B&B. Meeting new people and creating a memorable guest experience for each visitor is what Sandra and Jeff are all about. Being able to do it in a historic inn located in the Shenandoah Valley, with amazing beauty in ALL directions, is like a piece of Heaven – what a wonderful place to call home!
They invite you; welcome you and most importantly look forward to serving you.  Stay as little or as long as you like and hopefully you'll be back again.  After all, it's about you!
"We enjoy pleasing others; it's who we are…"  Jeff & Sandra Shaffer
"I've got a room at the top of the world tonight…"  Tom Petty