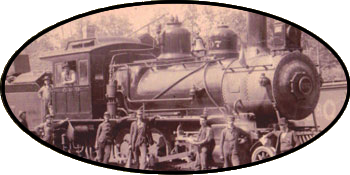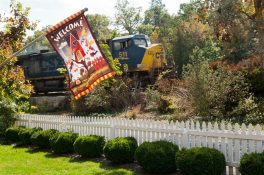 In the early days of Goshen the best transportation was by railroad passenger service. Those who could afford it traveled to the mountains each summer to escape the heat and to visit the various 'healing springs' in the area, Cold Sulphur Springs, Warm Springs, Hot Springs and others. Most of the springs in the area had one or more hotels associated with them.
Passenger service to Goshen, which began in 1856, served several large inns, including the Alleghany Hotel built in 1891 by a group of investors who called themselves the Goshen Land and Improvement Company. Designed by the famous architect Stanford White, the 114-room hotel stood on the hill opposite the Hummingbird Inn. The Alleghany Hotel was at the time the premiere destination in our mountain area, surpassing even the Homestead at that time. Unfortunately, it burned on Thanksgiving Day, 1923.
With the coming of the automobile, many of these mountain resorts lost their primary clientele. Improved highway systems allowed personal vehicles to become the predominant method of transportation. Passenger service to Goshen ended and the passenger depot is now history.
The CSX railroad uses the line, recently leased by the Buckingham Branch Railway Company. The line, formerly the Chesapeake and Ohio, runs through Goshen and close to the Hummingbird Inn, the inn itself being named after an old passenger train, the "Humming Bird".
The Cardinal, Amtrak's Washington to Chicago run, passes by three days each week (Wednesday, Friday and Sunday). Freight trains with empty coal cars headed to West Virginia come through on an irregular schedule. Most of our guests enjoy the trains, a nostalgic reminder of years gone by – and some even stay here for the trains!
For Train aficionados, two nearby Railroad Museums to visit during your stay:
A close trip to Clifton Forge to visit the C&O Railway Heritage Center; a railway heritage museum, interpretive, educational, and visitor's center that tells the story of the C&O Railway: the people, the places, and the technology. The story is the essential American tale of how our nation grew, how we lived and worked, and how we were all connected together by twin rails of steel. http://candoheritage.org/
A day trip to Roanoke to visit the O. Winston Link Museum, which documents the end of the steam locomotive era on the Norfolk and Western Railway. Housed in the former passenger station, it's well worth a visit, and is close to the Virginia Museum of Transportation, where you'll see more train memorabilia.