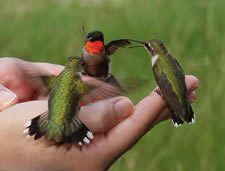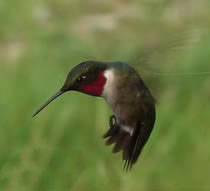 By our count, more than 25 Hummingbird Inns . . . or lodges, hotels, and bed and breakfasts . . . are found in places as diverse as Georgia, Colorado, Dominica, Wisconsin, Missouri, Texas, British Columbia, and Tobago.
Our inn here in Goshen, Virginia in the Shenandoah Valley was actually named after a train. In the 1980s a woman ran a restaurant and inn here and named this place The Hummingbird Limited Ordinary, melding the name of a passenger train that used to run on the Louisville & Nashville Line with an old-fashioned word for an eating house or tavern providing meals at a fixed price.
So, when Jerry and Diana Robinson bought the near derelict house in 1991 and learned its history, they retained the Hummingbird part, added the Inn, and dropped the archaic "ordinary" from the name. Since ruby-throated Hummingbirds are everywhere in the gardens and frequent the feeders on the porches and verandas, it seemed an appropriate moniker.
For those who want to learn more about hummingbirds (that's the actual bird, mind you), you might check The Hummingbird Society. Or for some truly remarkable photos of Hummingbirds close up and friendly (two of them reprinted above) have a look at Abigail Alfano's site (added here by permission), The Hummingbird Lady.  Some good information on what to put in the garden to attract hummingbirds can be found HERE.