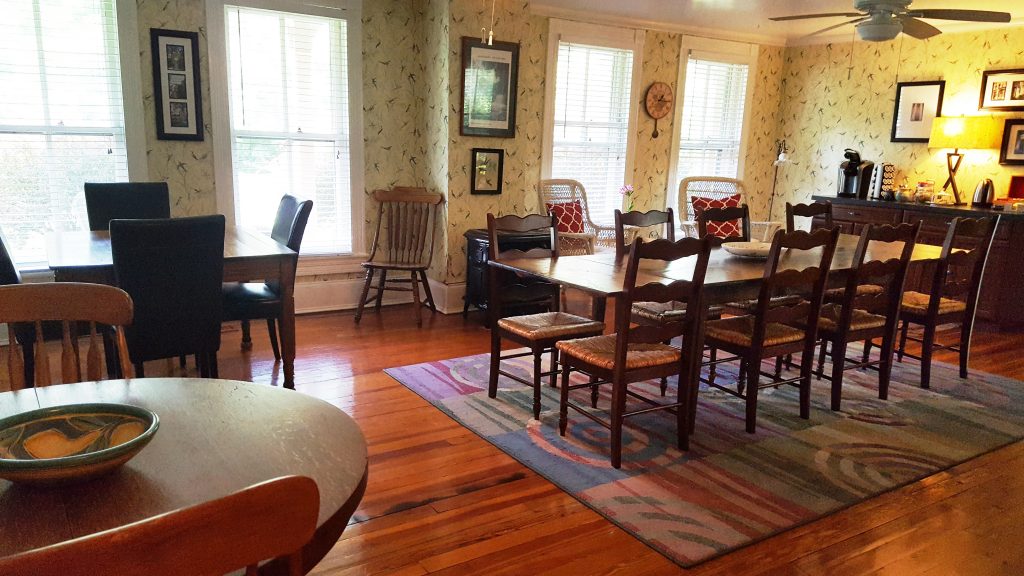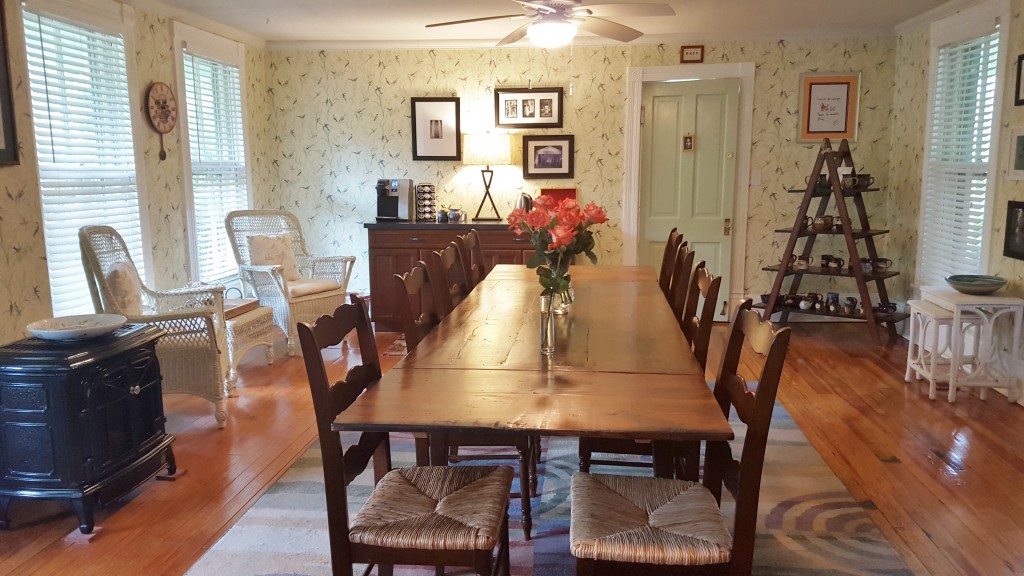 BREAKFAST
We take breakfast seriously at the Hummingbird Inn! Included with your stay is a full country breakfast served each morning in our Dining Room. A yummy nibble for your coffee may be found on the Tea & Coffee Bar prior to breakfast. Guests often take this to their favorite spot to enjoy alone or with others. At 9:00 am we serve a seated two-course breakfast that typically starts with seasonal fresh fruit, our famous yogurt parfaits with house-made granola, or Jeff's delicious crepes! In the winter we include warm starters such as broiled grapefruit, baked apple and cranberry gratin or oatmeal creme brulee. The main course is hearty and may be sweet, savory or a little of both. Our most popular main courses include spinach and tomato frittata, Southwest egg bake, salmon quiche, eggs Florentine, eggs Benedict, roasted herb potatoes, crispy hash browns, seasonal French toast, cherry griddle cakes or Jeff's French pancakes served with Virginia ham, oven roasted local bacon or grilled local sausage. Our eggs are organic non-gmo, delivered weekly from Bells Valley Farm just up the road from us!
All dietary restrictions are accommodated with advance notice. We make a wonderful tofu scramble with grilled vegetables or a Quinoa Hash for our vegan guests; please let us know at the time of your reservation so we may purvey fresh ingredients for your dietary needs.
TEA & COFFEE BAR
Our complimentary Tea and Coffee Bar located in the Dining Room is open 24 hours for guests to make their drinks of choice. A Keurig Coffee Maker and Hot Water Kettle offers a variety of coffee, tea and non-caffeine choices for your pleasure. We also have our house nut mix and usually a sweet, savory or fresh fruit snack.
COLD BEVERAGES
A refrigerator in our Den houses complimentary bottled water, sodas and juices for our guests to enjoy at the Inn or take to go for your exploring and hiking ventures. In addition, we offer a wine menu of local Virginia Wines and California Sparkling Wines for guest purchase, $18-$35/bottle.
LUNCH
We offer Lunch "to go" for two. We prepare and pack sandwiches to order, chips, fruit, dessert and bottled water in a Picnic Basket, Back Pack or Brown Bag, it's up to you. Picnic lunch for two is $30, advance notice required.
DINNER
We offer an Antipasto Dinner Platter & Dessert for guests who wish to stay at the Inn for their evening meal. The platter is full of seasonal goodies that include assorted cured meats, imported and local cheeses, garden vegetables, fruit, artisan bread and dessert…served indoors, outside on the veranda or on our peaceful deck overlooking Mill Creek. It's really a delicious fun feast! Dinner & Dessert Platter for two is $60, advance notice required. Add a bottle of Virginia Wine or California Sparkling Wine from the house menu, $18-$35/bottle.
FARM TO TABLE
We are members of Fields of Gold and proudly support Virginia's Independent Farmers and Producers. Check out some of our local farmers, producers and vendors.
See you on the Farm Trail!