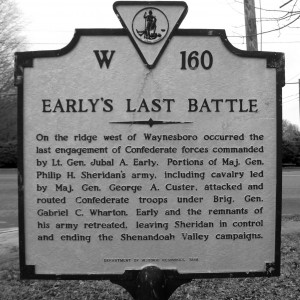 It may not have been a major engagement, but the Battle of Waynesboro was the last battle in the Shenandoah Valley.
Remembering that day March 2, 1865, the City of Waynesboro is holding their annual Battle of Waynesboro Re-enactment Feb 28 – Mar 1.
And its original participants were both famous and infamous.  Little known at the time  among the combatants was George Armstrong Custer, who survived this battle only to lose it at Little Big Horn.  Learn more about Custer in Virginia .

Today we can only read about the bravery shown during the battle.  But during the celebration there will be a re-enactment each day at 1pm.
Additional narratives of that day can be found at the Heritage Foundation.