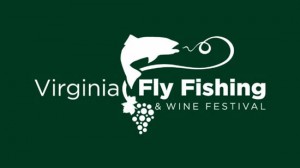 Press Release from the Virginia Fly Fishing & Wine Festival
2015 Virginia Fly Fishing Festival 
Fly anglers from across the country will celebrate the 15th Annual Virginia Fly Fishing & Wine Festival on April 11-12, 2015. Held on the banks of the South River in Waynesboro, the Virginia Fly Fishing & Wine Festival is the largest outdoor fly fishing event in the country that offers on-stream instruction. Only here can you learn all the latest techniques from the experts and then walk right over to the river and try them for yourself.
This year's festival sponsors include Temple Fork, Orvis, Harman's North Fork Cottages, Wild River Outfitters, Eastern Fly Fishing, Blue Ridge Oral and Maxillofacial Surgery, Virginia Sportsman, DuPont Community Credit Union, Mid-Valley Press, Blue Ridge Outdoors, Virginia Department of Game and Inland Fisheries, and Waynesboro Downtown Development Inc. New sponsors for this year include the Recreational Boating and Fishing Foundation (RBFF), Bethany Christian Services, Ruthless Fishing Outdoors and Trout Unlimited.
The 2015 Virginia Fly Fishing and Wine Festival will feature noted fly anglers from across the Mid-Atlantic, including fly fishing icon Lefty Kreh. Other noted speakers and fly tyers include Ed Jaworowski, Bob Clouser, Beau Beasley, Pat Cohen, Dusty Wissmath, Walt Cary, Blane Chocklett, Captain Gary DuBiel, Linda Heller, Colby Trow, and Don Kirk, editor of Southern Trout Magazine. Kayak expert and author Cory Routh will also be on hand to demonstrate how to use this unique watercraft to access hard-to-reach waters.
Beginner bass bug fly-tying classes will be taught by fly-tying expert Pat Cohen. This is the class for beginners interested in learning how to tie bass bugs from the ground up. Master Certified Casting Instructor Dan Davala and author Bob Clouser return to teach their acclaimed beginner fly casting classes. Last year's classes sold out—don't delay reserving yourself a spot! If you've been casting for a while but need to gain distance or learn how to overcome windy conditions, then you need legendary casting instructor Ed Jaworowski's superior casting classes for intermediate to advanced level casters.
Between lectures, classes, and lunch, sample fine wines from a number of noted Virginia wineries (tastings included with festival admission). Attendees can wash down their wine with live riverside music.
Returning this year is the very popular Children's Catch-and-Release Trout Pool. Children will be able to fish for native brook trout before releasing their catch into the South River (with the help of their parents).
New this year are Family Fly Fishing Classes (3FC) sponsored by the Recreational Boating and Fishing Foundation. Parents and children will learn the basics of fly fishing and casting together, on a level all of them can understand. The whole family will also get the chance to try a little fly tying! All 3FC classes and materials will be provided at no cost to festival attendees.
Attention, Boy Scouts: You can earn your Fly Fishing Merit Badge at the festival through a program taught in cooperation with the Boy Scouts of America. This special class is free of charge to every uniformed Boy Scout. Space is limited, so reserve your spot today!
The festival is also pleased to announce Trout Unlimited as this year's exclusive Conservation Sponsor. "Fly fishermen know that good fishing requires healthy streams," according to Trout Unlimited Chief Marketing Officer Joel Johnson. "Connecting with this passionate angling community at the festival makes great sense for TU, because it's our mission to make fishing better by protecting and restoring our critical coldwater resources." TU, the country's premiere cold water conservation organization, will also be giving programs over the course of the festival educating the public about their 10 Special Places campaign.
Feeling lucky? Try your hand at winning over $10,000 worth of raffle prizes including kayaks, high-end rod-and-reel outfits, artwork, and guided trips. This year's Grand Prize is a trout angler's delight. The lucky winner and one guest will be treated to a 3 night stay at the famed South Holston River Lodge, complete with 3 days of guided fishing. All meals and accommodations are include as well as guide and drift boat fishing on the South Holston and/or Watauga River based on water conditions. Fishing license and guide tip not included.
The Virginia Fly Fishing & Wine Festival is a one-of-a-kind event: Monies received from sponsors, vendors, ticket sales, and raffles are used to cover the cost of next year's festival with the remainder going to the Virginia Fly Fishing Festival Foundation, which promotes conservation and stream restoration projects. Daily admission to the festival is $20 per person, and the festival runs from 9 AM-5 PM on Saturday and Sunday. For more information about the festival, visit  www.vaflyfishingfestival.org