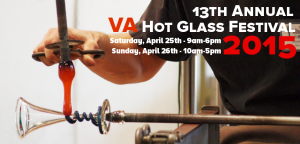 Clouds of steam rise as an artist uses a thick pad of wet newspaper to shape a ball of 2000-degree molten glass, glowing bright orange on the end of his blowpipe. He tips the opposite end to his mouth and blows into it. "Ooooooo," murmurs the crowd, as a bubble appears in the middle of the molten glass. This is the typical scene at the Virginia Hot Glass Festival, now in its 13th year at Sunspots Studios in Staunton, Virginia. Visitors get the rare opportunity to witness various processes used by artists to create everything glass–from two-foot tall vessels and flower-filled paperweights, to sparkling glass earrings and art glass marbles that give the illusion of a bottomless vortex.
This year's Festival takes place Saturday, April 25, from 9am to 6pm, and Sunday, April 26, from 10am to 5pm. All exhibits will be inside the three-story building that houses Sunspots Studios in Staunton, Virginia. Admission is free, and nearby parking is available.
Artists come from all over the eastern United States to participate. Visitors to the Festival will have the rare opportunity to see and buy glass art from many artists in one location. In addition to glass blowers, flame-work and fused glass artists will be represented. These artists melt and shape glass in torch flames and in 1200-degree ovens to create art glass jewelry, goblets, sculptures, marbles, plates, and many other items.
"The Virginia Hot Glass Festival is a unique kind of art fair," says organizer and glass artist, Doug Sheridan. "First, it is devoted to a single medium: glass. Second, almost all our artists demonstrate their craft for the public to watch. That adds an exciting and educational dimension to our event." Demonstrations will be ongoing in several places during the Festival.
Sunspots Studios creates and sells artworks of copper and art glass in its Staunton studios, and offers visitors live glass blowing demonstrations daily year round. Sunspots is 5 minutes from I-81 (Exit 222) and I-64, near Staunton's historic train depot. It is located in the historic Klotz Building, 202 S. Lewis St., at the corner of Middlebrook, and is open 7 days a week. For more information, call Sunspots Studios at (540) 885-0678, or visit www.sunspots.com.