If you are like us, once started it is hard to stop….and so we forged ahead with Robinson Room – Rejuvenation 2!
This project, was supposed to be the Robinson Room Hallway only…..and just the wood and trim.  HA!
Soon it expanded to the bedroom….with two colors no less.  And then the lamps were the wrong color….
And then, how could you leave out the bathroom….but wait….if we update the color, the vanity needs to be changed out…and then how about a new shelving unit to make it easier for guests?  Why not!!
All in all, the only thing left to do is find things for the walls…they do look awfully bare.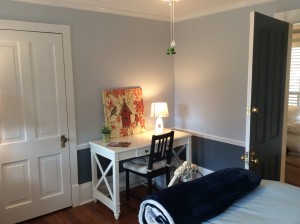 Oh, and did I mention we painted the doors….this started downstairs and is to be continued on all our other rooms.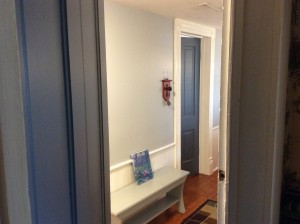 So if you are keeping track, we have updated the Teter-Wood and Robinson Rooms and finished the installation of a new whirlpool tub in the Alleghany ( and that is a story all unto itself )!
But do we stop there….no!  Next is painting the Alleghany, both bedroom and bathroom, and then tackling a new tub in the Franklin's rather tight bathroom.  The tub is currently sitting in its box on our front porch….not a great use of resources.
Wish us luck!